Click on the button to download the remote assistance program from our server.
Once the download is finished, start the program on your PC, confirming any protection requests.
If this is the first time you are running our remote assistance tool on your PC, you will be asked to choose "Open Supreme" or "Install Supreme (for unattended access)"; unless otherwise directed by our technician, leave the first choice "Open Supreme" selected and press the "Accept" button to accept the terms of the Supreme software.
---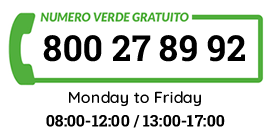 Service operating from Monday to Friday, 08:00 to 12:00 and 13:00 to 17:00, for calls made from Italy.
From abroad, call +39 0342 615506
---