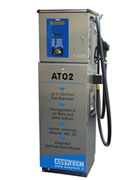 Fuel pump with flow rate from 40 to 180 l/min, available in single, alternate or double version, ideal both for refuelling car fleets and petrol stations.
Direct connection to 1-2 level probes, with direct visualisation on the dispenser display of the of the heightness of the product in the tank.
Possibility to install an integrated management system for enabling deliveries with data download via LAN, WiFi or GPRS modem.